Deal on Yoga Classes and Spa Treatments in Chicago
Up to 50% Off Yoga Classes, Spa Services, Acupuncture, and More!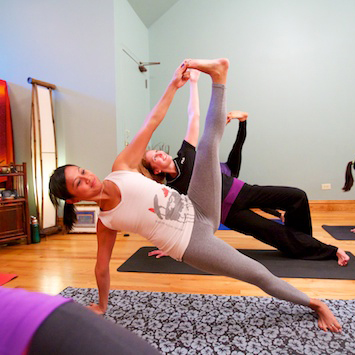 The temps are dipping, seasonal affective disorder is kicking in, and the holidays are right around the corner. Not to worry; Infuse Yoga Spa has the cure for what ails you. As the saying goes, it's all in a name. Infuse boasts a variety of spa services and yoga classes designed to help you look and feel more like your old self again. Our exclusive PopSugar offer makes it even easier to wind down with savings of up to 50 percent on yoga classes, Thai massage, acupuncture sessions, or a botanical facial.
Infuse Yoga Spa owner Andrea Klunder is a Jack of all trades (yoga teacher, Thai bodywork therapist, skin care consultant) and master of all. She opened Infuse in 2008 (with a staff of 12), with the intent of creating a friendly and nonintimidating respite from the daily rat race. Nestled inside a vintage building from the late 1800s, the cozy interior is decorated with Asian-inspired features, nontoxic VOC free paints, and eco-friendly furnishings. Along with yoga and spa services, the urban retreat also offers meditation classes, nutritional counseling, rekiki, life and business coaching, workshops, and ongoing events all designed with the intention of promoting a more balanced lifestyle. With the mantra "look, feel, be your best," we're ready to turn ourselves over to their (healing) hands.